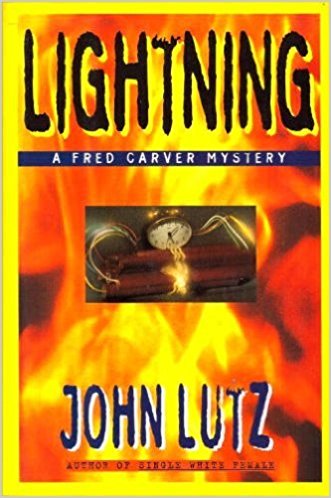 Published by Henry Holt
About this series
Fred Carver was a cop until a bullet in the knee ended his career. The wound cost him some of his mobility, but none of his toughness. Now he's a private eye whose cases take him to the shadiest corners of sunny Florida.
In Hot, he goes to the Keys to tackle a rich yachtsman who dabbles in smuggling and murder. Spark takes him to Solartown, a retirement community where residents are dying unnatural deaths. Torch finds him in the (fictional) coastal town of Del Mornay, tangled in a web of sexual intrigue and police corruption. He gets help from suave policeman-friend De Soto and beautiful African-American girlfriend Beth.
Lightning (1996)
Disabled Florida P.I. Fred Carver faces the most painful case of his career when his lover is injured in a bomb blast that kills two abortion clinic workers, and Carver must discover whether the bomb was the work of a religious zealot, or a personal vendetta.
Burn (1995)
Florida P.I. Fred Carver takes on what may be his most ambiguous and baffling case yet. His new client, Joel Brandt, reminds him of the handsome and deceptively charming mass murderer Ted Bundy - and that's the least disquieting aspect of the case. Brandt has been charged with stalking Marla Cloy, a woman he claims he's never met, and he hires Carver to find out why she's falsely accusing him. At his wit's end, Brandt is convinced she's out to get him so she can kill him, claiming self-defense. But why? When Carver can find no connection between the two and no reason for either's vengeance, he begins to wonder who is stalking whom and finds himself caught in the middle of a deadly game of cat and mouse. A personal crisis that takes Carver and the reader by surprise rounds out this tense and complicated tale
Torch (1994)
Disabled Florida P.I. Fred Carver takes on a strange case: a married woman wants him to follow her--and her lover. After the woman commits suicide, Carver stays on the case. And when her husband also kills himself and the lover disappears, Carver knows there's something far more complex--and evil--at work.
Spark (1993)
Disabled Florida P.I. Fred Carver is hired by the redoubtable Hattie Evans to investigate the death of her seventy-year-old husband, Jerome. Although the doctors say he had a heart attack, an anonymous note claiming Jerome was murdered stirs Hattie's doubts about the cause of her husband's death.
Hot (1992)
When Carver is approached by Henry Tiller, a retired cop living in the Florida Keys, to check out his wealthy and suspicious neighbor, Carver is reluctant to get involved. But as he investigates, he realizes the neighbor's hired muscle and his luxury yacht with oddly shaped cargo boxes can only mean trouble.
Bloodfire (1991)
A drug lord asks Carver to find his wife, and then the wife begs Carver for protection against her husband, who blames her for the death of their heroin-addicted baby. It's a case full of danger--and dangerous romance.
Flame (1990)
Private detective Fred Carver becomes embroiled in another strange case. A new client in an unusual situation leaves Carver's office and gets into his car. The car explodes upon ignition and only a charred corpse remains. Identify questions develop and Carver's case turns into murder.
Kiss (1988)
Fred Carver is hired by his good friend, Lieutenant Alfonso DeSoto of the Orlando police to investigate the death of his uncle at Sunhaven, a local nursing home. Carver is harassed by Raphael Ortiz, a viciously depraved thug bent on discouraging Carver from investigating Sunhaven.
Before he can solve this shocking case he must battle to stay alive, and confront some personal demons of his own in the process.
Winner of Private Eye Writers of America Shamus Award.
Scorcher (1987)
A serial killer is on the loose, a maniac wielding a homemade flame thrower fashioned from a scuba tank. He has murdered three people - and one of them is Carver's eight-year-old son.Carver will do anything to find his son's killer and exact a father's revenge. All clues point to the brilliant schizophrenic son of one of Florida's wealthiest families, and when the suspect goes on the run, Carver sets out to hunt him down.
A gripping story of long-buried secrets and burning hate, Scorcher is a taut, explosive and thoroughly unforgettable mystery.
Tropical Heat (1986)
Fred Carver, an Orlando cop until a gunman's bullet shattered his kneecap, acquires a cane and a new career, private investigating. From beach resorts and luxury condos, to the swamps and smuggler's coves of the Everglades, Carver looks for a man who police think committed suicide. Mysterious coincidences follow, Carver's life is threatened and he falls for his client, Edwina Talbot. Deception and confusion make the case into a maze, until bitter betrayal provided an explosive vehicle for a surprising climax.